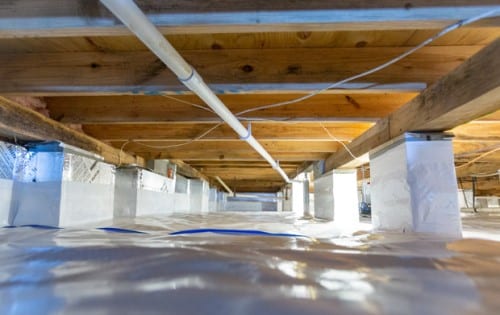 Current NC code requires all new homes to have at a minimum 6 mil vapor barrier.  This will retard the migration of water vapor from the surface area of the soil from reaching the insulation, sub-structure of your home eventually wicking through into the living space of your home like a smokestack.
If your home has moisture concerns, it likely will not get better if proactive measures are not taken.  Just because you cannot see it, does not mean it does not exist.  During my inspection of your home I not only record moisture content in the wood sub-structure but also relative humidity in the crawlspace.  I look for all sources of moisture within the crawl space.
The most common are:
Soil evaporation
Foundation wall penetration
HVAC
Improper ventilation
There is not a one size fits all approach that is economical therefore, I take all aspects of my inspection findings into consideration.  While some homes may require a full encapsulation, others may simply require a vapor barrier, better ventilation or a fungal treatment.
Our services include:
Vapor barriers
Encapsulations
Dehumidifier installation and maintenance
Fungal treatments
Wood repair
Automatic foundation vents
Fan installations
At Foremost Pest and Wildlife, we will work with you to resolve all your crawlspace moisture concerns.
Call 704-698-5962 TODAY!